"Unlike using paint to portray the colors of earth, I simply use the pigments of our beautiful planet
and merely move dirt around the canvas to form a unique piece of art." -Gene Albritton

A working art studio creating expressions as viewed by Marshall "Gene" Albritton. Gene paints, or moves dirt, into stunning creations on canvas.
His love of nature has led him to develop a unique way of preserving the elements at hand from all parts of this beautiful planet.
Using pigment created from time alone truly surpasses all figments of imagination and the beauty thereof produces a stunning result.
The vibrancy of our earth's colors come to life as this natural form of art develops.
Precise earth tones emerge as the subject in essence takes life and formation of the artist's expression.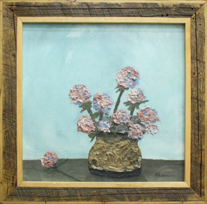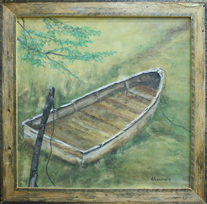 Our goal is simple, "To create beautiful works of art with many variations of view,
using natural pigment of stunning hues and superb texture."

Using earth in its natural state produces an effect that is truly as real as real can get.

Studio Earth is also the building place for Rising R Art and Rough Cut Frames.
Many of Gene's dirt paintings are framed in these rustic beauties. Handmade from reclaimed wood taken from fallen barns and cattle pens, each one is unique and
perfect for framing your paintings or pictures with plain and simple elegance.

Come visit Studio Earth in Whittier, NC. Located on Conleys Creek Rd.
One mile past the Smoky Mtn Country Club on the right.